Мотоцикл Elefant 900ie GT (1991): технические характеристики, фото, видео
new collection 1
Основная информация
Модель:
Cagiva Elefant 900 i.e.
Год:
1991
Тип:
Туризм
Двигатель и привод
Рабочий объем:
904 см 3
Тип:
V2
Тактов:
4
Мощность:
72.00 л.с. (52.6 кВт)) @ 8000 об./мин.
Компрессия:
9.2:1
Диаметр х Ход поршня:
92.0 x 68.0 мм (3.6 x 2.7 дюймов)
Клапанов:
2
Диаметр х Ход поршня:
92.0 x 68.0 мм (3.6 x 2.7 дюймов)
Контроль топлива:
Desmodromic valve control
Охлаждение:
Воздушное
Коробка передач:
5 скорости
Привод:
Цепь
Скорость и ускорение
Макс. скорость:
182.0 (113.1 mph)
Прочее
Вместимость бензобака:
24 л.
Передняя покрышка:
100/90-19
Задняя покрышка:
140/80-17
Передний тормоз:
Один диск
Задний тормоз:
Один диск
Извините, но данный раздел находится в разработке, пожалуйста, зайдите чуть позже
Извините, но данный раздел находится в разработке, пожалуйста, зайдите чуть позже
Извините, но данный раздел находится в разработке, пожалуйста, зайдите чуть позже
Извините, но данный раздел находится в разработке, пожалуйста, зайдите чуть позже
Извините, но данный раздел находится в разработке, пожалуйста, зайдите чуть позже
Мотоцикл Elefant 900ie GT (1991): технические характеристики, фото, видео
new collection 1
Основная информация
Модель:
Cagiva Elefant 900 i.e. GT
Год:
1992
Тип:
Эндуро / Внедорожный
Двигатель и привод
Рабочий объем:
904 см 3
Тип:
V2
Тактов:
4
Мощность:
73.00 л.с. (53.3 кВт)) @ 8000 об./мин.
Компрессия:
9.2:1
Диаметр х Ход поршня:
92.0 x 68.0 мм (3.6 x 2.7 дюймов)
Клапанов:
2
Диаметр х Ход поршня:
92.0 x 68.0 мм (3.6 x 2.7 дюймов)
Контроль топлива:
Desmodromic valve control
Охлаждение:
Воздушное
Коробка передач:
6 скорости
Привод:
Цепь
Скорость и ускорение
Макс. скорость:
185.0 (115.0 mph)
Прочее
Вместимость бензобака:
24 л.
Передняя покрышка:
100/90-19
Задняя покрышка:
140/80-17
Передний тормоз:
Один диск
Задний тормоз:
Один диск
Извините, но данный раздел находится в разработке, пожалуйста, зайдите чуть позже
Извините, но данный раздел находится в разработке, пожалуйста, зайдите чуть позже
Извините, но данный раздел находится в разработке, пожалуйста, зайдите чуть позже
Извините, но данный раздел находится в разработке, пожалуйста, зайдите чуть позже
Извините, но данный раздел находится в разработке, пожалуйста, зайдите чуть позже
Cagiva Elefant 900ie GT
Cagiva Elefant 900ie GT
Manufacturer
Production
1991
Class
Adventure
Engine
Bore / Stroke
91.4mm x 91.4mm
Compression ratio
9.2:1
Horsepower
67.99 HP (50.7 KW) @ 7900RPM
Torque
52.37 ft/lbs (71.0 Nm) @ 5250RPM
Transmission
Gear box: 5-speed, manual

Clutch: wet multi-disc, manual

Suspension
Front: 45mm Marzocchi telescopic fork
Rear: Ohlins adjustable mono-shock
Brakes
Front: single 296mm disc
Rear: single 240mm disc, 4-piston caliper
Front Tire
100/90-19
Rear Tire
140/80-17
Weight
206.0 kg (wet)
Manuals
Service Manual
The Cagiva Elefant 900ie GT was a air-cooled, four-stroke, 90-degree V-Twin, SOHC, desmodromic 2 valves per cylinder Adventure motorcycle produced by Cagiva in 1991. Max torque was 52.37 ft/lbs (71.0 Nm) @ 5250 RPM. Claimed horsepower was 67.99 HP (50.7 KW) @ 7900 RPM.
Contents
Engine [ edit ]
A 91.4mm bore x 91.4mm stroke result in a displacement of just 904.0 cubic centimeters.
Drive [ edit ]
The bike has a 5-speed, manual transmission. Power was moderated via the wet multi-disc, manual.
Chassis [ edit ]
It came with a 100/90-19 front tire and a 140/80-17 rear tire. Stopping was achieved via single 296mm disc in the front and a single 240mm disc, 4-piston caliper in the rear. The front suspension was a 45mm Marzocchi telescopic fork while the rear was equipped with a Ohlins adjustable mono-shock.
1991 Cagiva Elefant 900ie GT [ edit ]
The 1991 MY Cagiva Elefant 900ie GT is the road-friendly version in the Elefant series, capable of tackling both busy city traffic as well as weekend longer hauls across the highway. It comes with features such as laced wheels, a half-fairing with an adjustable windscreen for improved protection against the elements, a dual seat, a rear luggage rack, hand-guards, wide handlebars, an engine guard, a 45mm Marzochhi telescopic fork coupled to a rear Ohlins mono-shock, front and rear disc brakes and a high-mounted exhaust system.
In the engine department it sports an air-cooled, four-stroke, 904cc, 90-degree V-Twin desmodromic engine paired to a five-speed manual transmission with a chain final drive and can reach a maximum power output of 68 horsepower and 70 Nm of torque.
Мотоцикл Elefant 900ie GT (1991): технические характеристики, фото, видео
Cagiva Elefant 900ie Lucky Explorer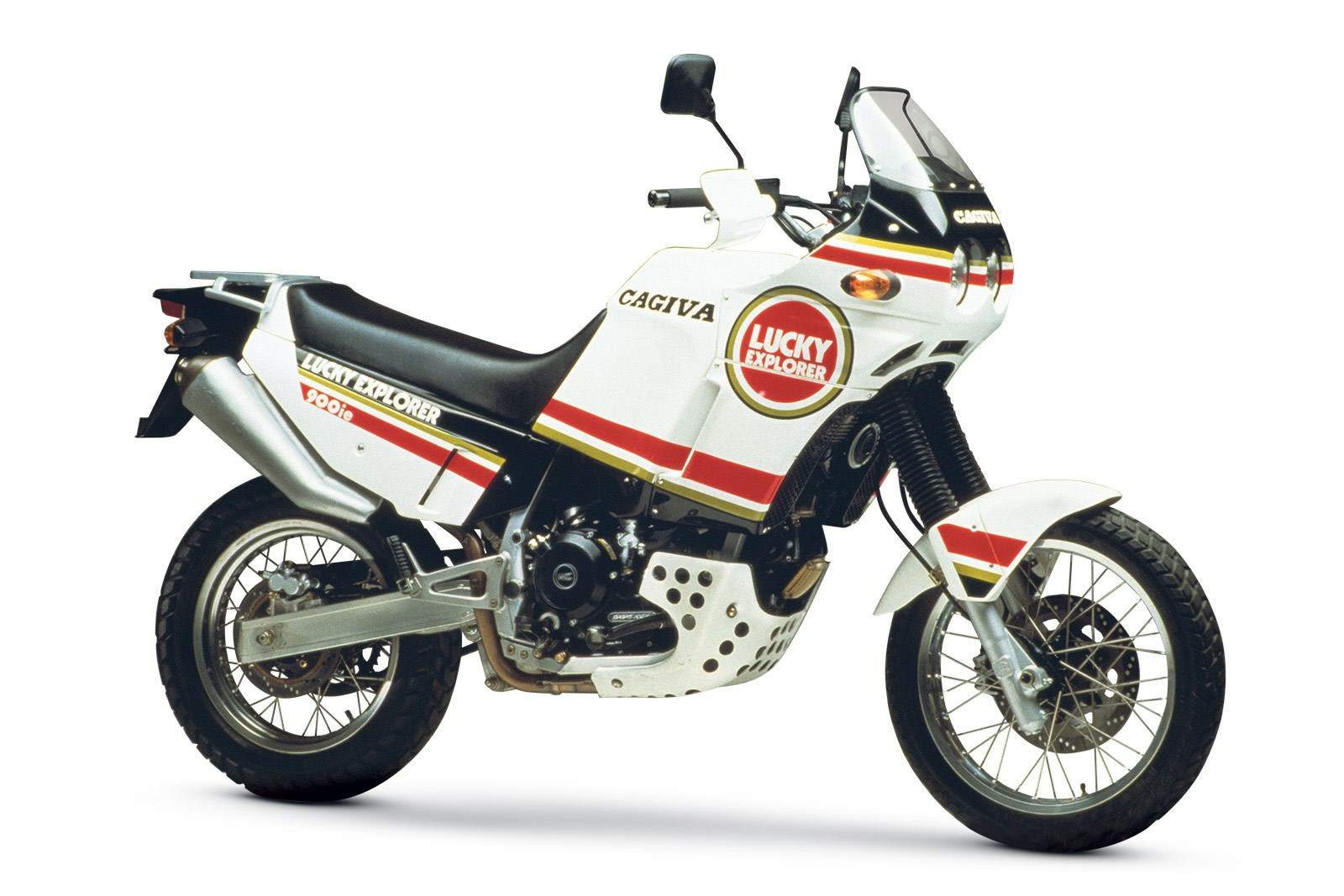 Make Model
Cagiva Elefant 900ie Lucky Explorer
Year
1992
Engine
Four stroke, 90° "L" twin cylinder, SOHC, desmodromic 2 valve per cylinder
Capacity
904 cc / 55.1 cu-in
Bore x Stroke
92 x 68 mm
Cooling System
Air cooled
Compression Ratio
9.2:1
Induction
42mm Weber L.A.W fuel injection
Ignition
Marelli electronic inductive discharge
Starting
Electric
Max Power
68 hp / 49.6 kW @ 8000 rpm
Max Power Rear Tyre
63.0 hp @ 7900 rpm
Max Torque
78 Nm / 57.5 lb-ft @ 5250 rpm
Clutch
Dry Multi-disc
Transmission
5 Speed
Final Drive
Chain
Frame
Double steel tubular cradle
Front Suspension
4 2.7 mm Marzocchi clamped stanchion telescopic forks non adjustable
Rear Suspension
Цhlins Rising rate box, monoshock adjustable for preload
Front Brakes
Single 296mm disc
Rear Brakes
Single 240mm disc 4 piston caliper
Front Tyre
100/90-19
Rear Tyre
140/80-17
Dimensions
Length 2295 / 90.3 in
Width 860 mm / 33.8 in
Height 970 mm / 38.1 in
Wheelbase
1570 mm / 61.8 in
Seat Height
900 mm / 35.4 in
Ground Clearance
260 mm / 10.2 in
Dry Weight
189 kg / 416.6 lbs
Wet Weight
208 kg / 458.5 lbs
Fuel Capacity
24 Litres / 6.3 US gal
Consumption average
17.5 km/lit
Braking 60 – 0 / 100 – 0
14.0 m / 40.6 m
Standing ј Mile
12.8 sec / 160.9 km/h
Top Speed
190.2 km/h / 118 mph
Road Test
Manual
1990 900ie Work Shop Manual / 1991 900ie GT Work Shop Manua l /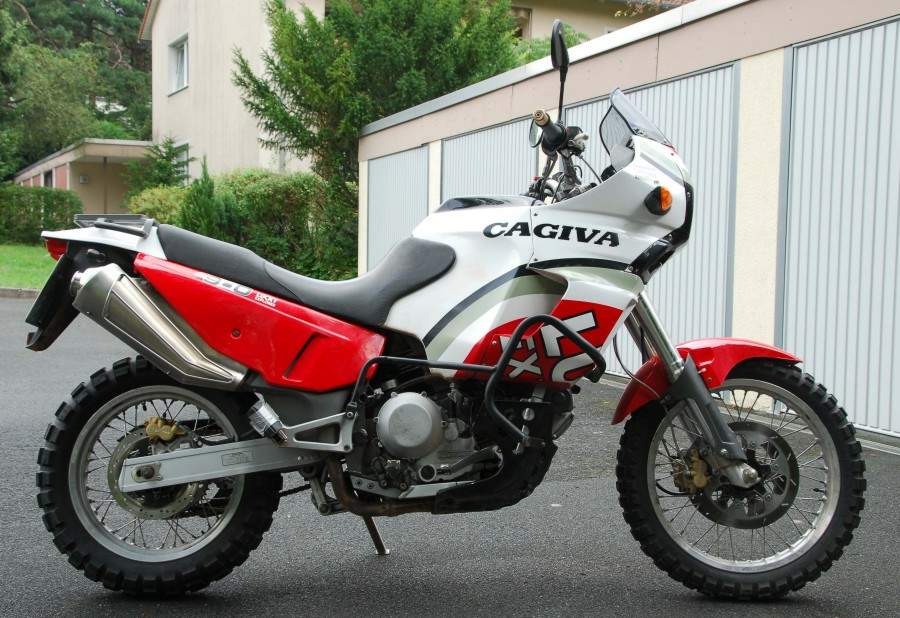 1992 Cagiva – Elefant – Lucky Explorer

Wow, have I learned a lot since picking up this bike at Cagiva in Philadelphia. Purchased from a former employee of Cagiva the bike stored at CagivaUSA for almost 3 years.
If you have gotten to this page you have probably figured out I am a Ducati nut. There is nothing similar or regular about this bike and the way it was assembled compared to another Ducati of the era. Cagiva / Ducati built this bike to homoligate the model for off road racing and every detail is
thought out and different from any Ducati I have ever laid
eyes on.
This model is the first Ducati to use with the Weber Fuel Injection system and was introduced months prior to the Paso 907ie. The bottom end is a 888 (water cooled) type and the top end 900SS (air cooled). The transmission is a closely geared 5 speed for off road use rather than the on road standard 6 speed of the era.
After changing the oil, draining the fuel and installing the new battery I realized after a few cranks of the starter motor the fuel pump was no longer making noise. Thanks to Marco's quick internet research he realized the fuel pump was the same as used in a 1990's Ford Mustang (with a little modification) . off to the parts store we went and sure enough they had the part. Not bad for finding a fuel pump to a 16 year old Ducati, less than 10 miles from home and on a Sunday. After installing the new fuel pump the bike fired almost immediately. How strange (old school) that fuel injection should have a choke.
One quick ride in the dark in 39 degree weather made me realize what an incredible motorcycle I have found . even without pushing.
The bikes height is a bit of a challenge as the seat is wide and at a 36″ height I am on the balls of my feet, even at 5'11". The ergonomics are incredible, the Corbin seat is very comfortable and the windscreen provides wonderful
protection.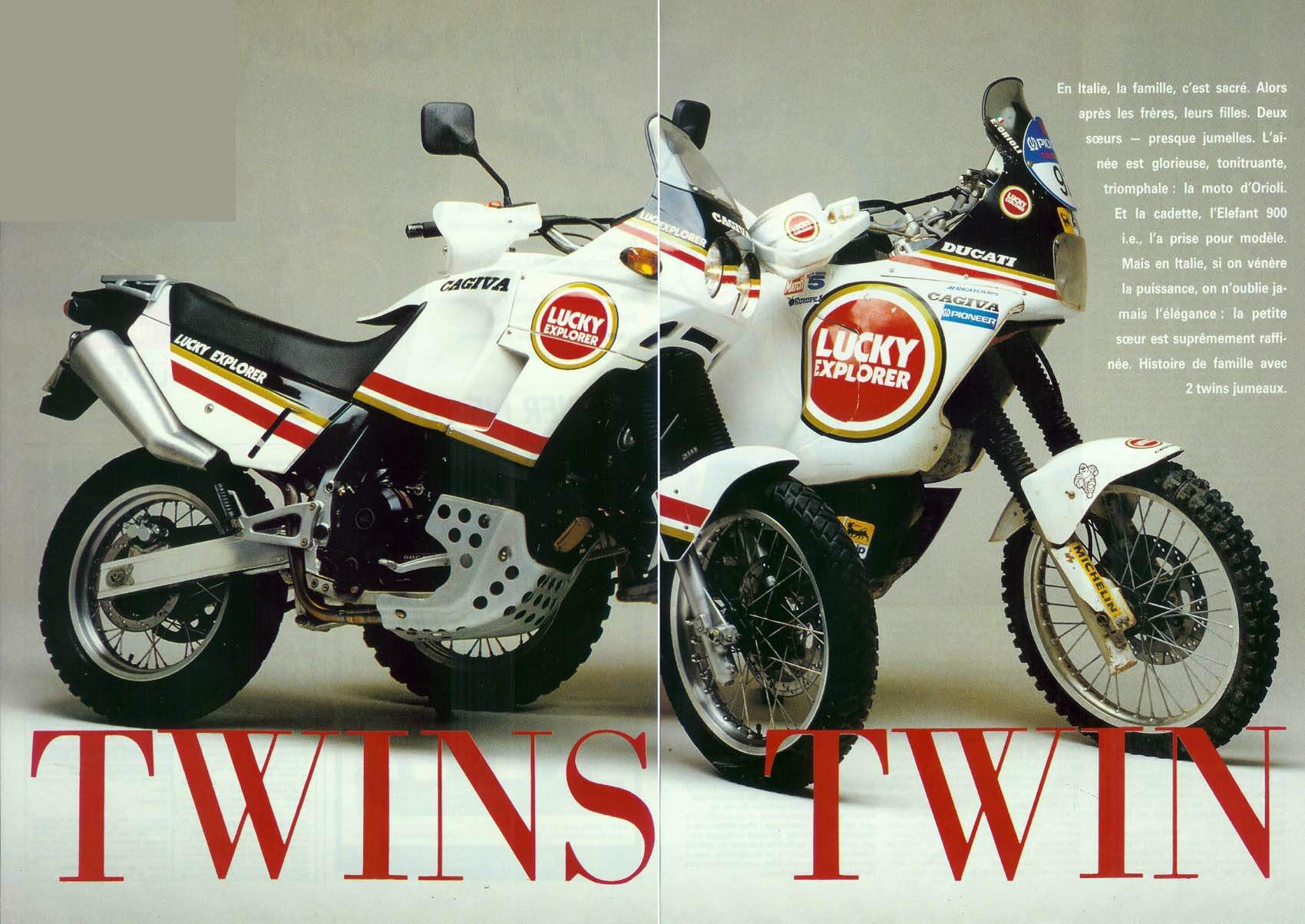 Lots more to come .
Taken from the internet . The Duck's Guts Oh yeah! This one does it for me. The elefant is such a poor choice for a model name. Every time I get aboard, this bike just shouts: "I am the lightest bike in the capacity class".
Here is a bike that could be brilliant, which is handicapped by being set up for the Dakar, by that I mean it steers, rather than auto-pilots around corners – which is probably great for deep sand. Ah, the BMW has spoilt me forever! The big white elefant provides good rear suspension thanks to a single Ohlins unit, and mediocre front suspension thanks to Marzocchi – you take a buffetting through the handlebars on the rough stuff, but praise the stiffness on the fast road
bits. Everyone who copes with a big modern dirt bike likes the Cagiva, despite its age. It feels nimble. The only problem that shows up occasionally in windy weather is the bikes capacity to act as a sail, and jump the front around.After riding the Guzzi "tractors", the engine took a bit of
getting used to because it needs to be revved to work properly. It has been perfect, and can see 180 kph, but I am
tempted to gear the bike up, as it obviously can do better.
The motor sounds good, and even though it doesn't have blitzing power on the road, the 65 HP seems plenty when that back wheel is sending up rooster tails in the dirt. I have fitted a floating Brembo cast iron disc and braided line and a Staintune muffler. Changing these items got big improvements, and luckily the Explorer doesn't punch holes in the Staintune with its rear brake caliper bleed nipple.
P.S. – weighed in at 221 KG with full fuel tank In 1990 followed the introduction of what many would describe as the ultimate Elefant: the 900ie. This was newly developed from scratch, not only having gotten a completely new design, but also under her skin a comlete evolution had taken place. The Pantah engine was traded for a reworked version of the 900SS engine, and fuel delivery and ignition were now under direction of a high spec Weber-Marelli fuel injection system. This was the same system
that was used on supersportive cars of that era like the Ford Sierra Cosworth and the Lancia Delta HF Integrale.
This all resulted in a –specially for that time- very fast all road with a top speed of 200 km/h that, due to its relative low weight, long suspension travel and elastic engine character, also was quite capable on unpaved roads. Even these days there are only a few bikes that can match the qualities of the Elefant. There, where road capabilities, power or comfort have gained, this almost always has compromised weight and a deterioration of all road
capabilities.
The 900ie was equipped with the colors of its rallye sister:
the well known Lucky Explorer design.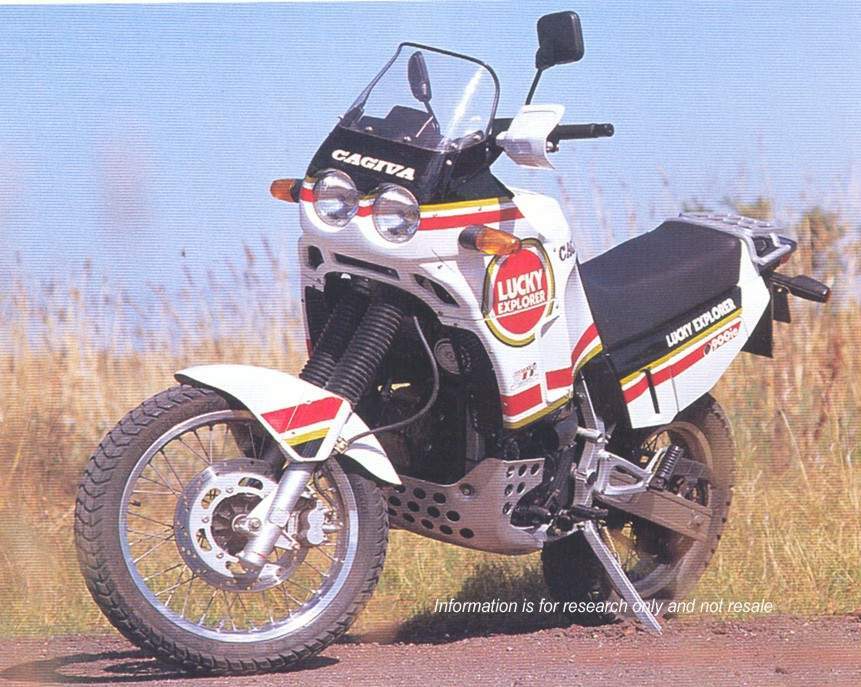 1994 Cagiva E900 Elefant By Paul Peczon
The E-900 Ducati is something Europeans would easily understand. It's a super motard, styled after Paris Dakar racers, with a street survival mission to handle well, even on badly worn cobbled roads. But I don't think Americans will understand it, for the same reasons they didn't understand the TDM850, the Transalp, and the BMW Paris Dakar. But wait, you say, isn't the Paris Dakar much coveted and worshipped among the jughead Bimmer crowd? Yes it is, and this bike will no doubt be greatly admired by the Duck lovers, and that's who it's for. Never mind the general population; the E-900 is a bike for the experienced, worldly
rider who wants a supremely capable bike made for the real life roads. It's for the rugged individualist who wants a suspension capable of handling even the worst roads, the ever lovable 900 desmodronic twin engine and fine precision Brembo brakes.
Before we get into the riding, I should say that I expected it to be absolutely ignored by the regular citizens of the world. After all, it just looks like an overgrown dirtbike. Regular people, as we all know, only admire Harleys and regard sportbikes with a mixture of fear, rage and condescending mirth. They think dirtbikes are for kids. Even thought it is tall and seemingly large, I thought people would ignore it. It is extremely quiet, once the dry clutch is engaged, and the graphics are subdued. But I was on it for maybe fifteen minutes when a guy in a Ferrari Mondial at a stoplight said "Very nice." I assumed that he just an Italophile, but sure enough, some grunge rocker at a sandwich shop wanted to know all about it. The next day, a woman abandoned her cash register to come out of her store and asked "That's not Japanese, is it?" I briefly explained the bike, and she nodded, knowingly. She liked it, an oddity in a world where I
thought women only like bikes with lots of chrome.
But I've said it before, and I mean it; I really don't care what the general public thinks about my ride. I'd ride a fluorescent pink Zamboni with "Leif Garrett" painted on the side if it was fast and handled well. I wouldn't care if it looked like a early seventies dirt brown Dodge Duster. I'm a performance guy at heart. This one performs.
The E-900 is big and tall, which means that it has lots of suspension travel, and the bulk to have composure on rough surfaces. It eats up bad road like nobody's business. You can't feel Botts dots, and in fact, you can run over curbs and barely even feel them. Hell, I went ahead and climbed stairs with the bike and it felt just fine. There's a lot to be said for a bike that can clear curbs. In traffic it was tall enough to easily clear most car mirrors, but trucks became the problem. I didn't have the bike long enough to learn how to really abuse it, but I'm sure it would happily run over errant road trash like mufflers, loose lumber and the ever
popular tire shard.
But the thing of it is, the bike handles extremely well in the curves. Knowing that pavement ripples don't affect it builds confidence, and I didn't even think about trying to reach its ample cornering clearance. Flicking a bike this tall from side to side in the twisties takes some getting used to, but it isn't as heavy as it looks, and I've ridden a lot of bikes with a taller center of gravity. Speaking of tall, I could barely reach the ground with my 32 inch inseam, but it wasn't too difficult to balance without touching down. At stop signs, I'd just stop long enough for the forks to decompress, and zip off. I didn't have a chance to thoroughly flog the bike for a full day in the canyons, and believe you me, I'm aiming back.In keeping with rich Ducati tradition, this bike wheelies on ommand in low gears. First gear is especially low, and I'm pretty sure that the front tire lifts an inch or so at every stoplight. The power delivery of the big twin offers high torque low in the revs, and continues fairly smoothly up to near the redline. This power, geared as low as it is, makes for fine highway cruising. In the high speed zone the fairing offers surprisingly nice wind protection. The air hits you on the upper chest, and your helmet doesn't get much turbulence. In fact, it's a bike I would tour on and be very
comfortable.
But I'm not so sure I'd do much off road on this one. It's a little big for trail work, although in more capable hands I'm sure it could be done ­ with fun. Also, let's not forget that this bike comes from a history of Cagiva desert racers and is built with experience as it's starting point. It's a fine capable
bike for the intelligent Aerostitch real world heavy mileage crowd. – Paul Peczon